Rainbow's doll was supposed to replace rainbow. she is different from rainbow because she is evil and wants
to destroy the original or kill everybody, which rainbow doesn't do.
It is the only character who doesn't lip sync.
It is the reason rainbow was eliminated.
It The only character who is filled with stuffing.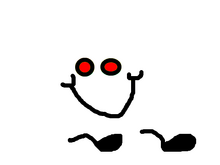 Ad blocker interference detected!
Wikia is a free-to-use site that makes money from advertising. We have a modified experience for viewers using ad blockers

Wikia is not accessible if you've made further modifications. Remove the custom ad blocker rule(s) and the page will load as expected.